Much like the title says: there was a bash, and I was there (while also in Romania and my living room). Basically, I had to decorate a very Irish pub, build and salvage various decorations, compile a guest list and invite as many people as I could find - and I had four hours to do it. Luckily the sim owner had decor laid out for my disposal before she logged off so much of what I had to do was arrange those things and skin the bar to look run down and basementy (yeah we'll call that a word). And by an act of some random offbeat god, it was a success.
Here are a few snapshots:
Here's what the entrance looked like. Rezzing was an issue at first which is a good thing; it meant enough people were there to slow down the server. In this photo we have a commando guy, a werewolf, a scantily-clad naughty bad witch, a lady with a weird thing, a post-pubescent Alice from Wonderland and me dressed as a normie doing my best Travolta from Saturday Night Fever: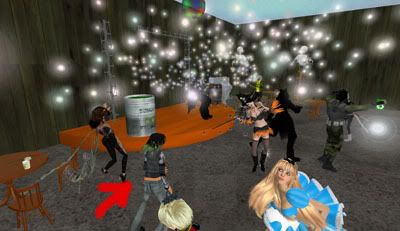 This is Bunnicula, a character from my favorite childhood story. He really doesn't show himself as much as I'd like.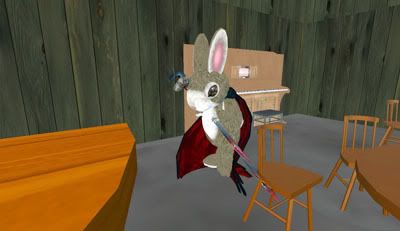 This is a very convincing nun, except for the fact that she may have dressed as a nun on acid. All she did all night was sway back and forth with sparkly dizzy stars over her head. Acid nun for president.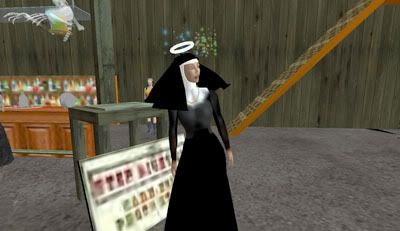 Here is a pretty bad ass rendition of a black cat. Beats the hell outta all those pale-faced cutesy whores with black pointy ears: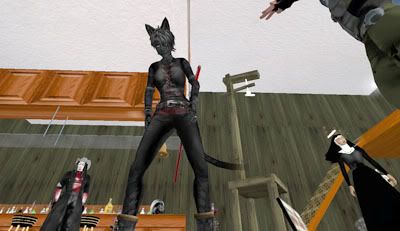 This was the good witch of the party (I think), and that's me pouting in the corner 'cause they ran out of candy corn. Those bastards...
And the two most fucked up costumes of the evening ARE...drumroll please!!
'Pile of roadkill' guy and 'dude stuck in a barrel'!!